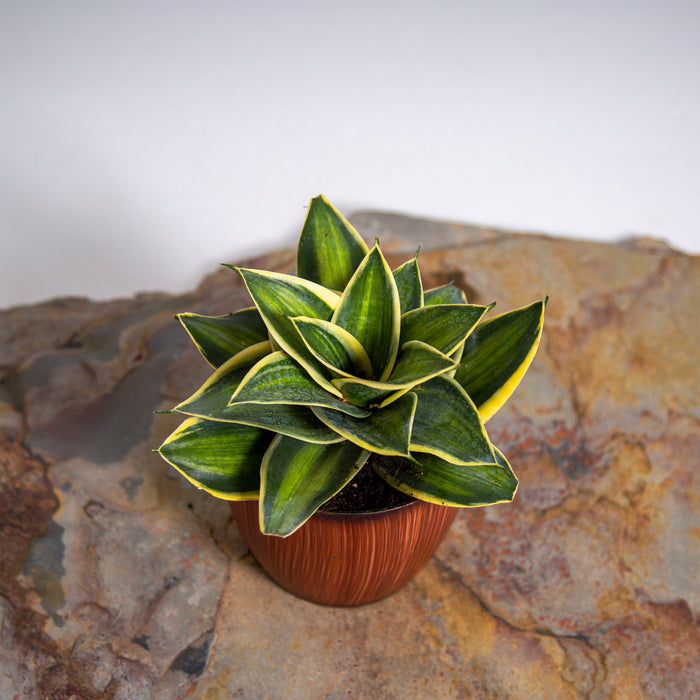 Sanseveria trifasciata 'Stars and Stripes'
Common Name: Good luck plant, Snake plant Twister, Tsunami
Botanical Name: Sansevieria trifasciata prain
Other names: Snake Plant - Star (Tornado)
Origin: West Africa
What's special? Tornado/ Twister/ Tsunami/ Star – this snake plant has got a lot of cool tags due to its beautiful twisting foliage. Snake Plant Star has many interesting qualities – removes harmful toxins from air; requires very little watering; it is low light tolerant; and above all, the shape, size & color is just perfect for any interior setting. You can put this plant anywhere in your bedroom, or someplace in your leaving room to give a soothing feel; it will even sit nicely on a workstation or a coffee table. This natural air-purifier, which operates 24*7, is one of the most sought out indoor plants.
Growth Habits: Around 3 to 4 feet tall
Soil Requirement: Sandy soil having low peat content
Watering Schedule: Once a week would be sufficient
Light condition: Indirect sunlight
Ideal Temperature: Anywhere between 18 - 25 degree Celsius
Repotting instructions: Anywhere between 18 - 25 degree Celsius
Suitable Locations: Any indoor place, like room corners, balcony, windows, wherever you can find indirect sunlight.
Maintenance: Low
Caring Tips:• Always use well-draining soil, wet soil can cause serious trouble to this plant. • Stay a little careful if you have pets and/or children around as snake plants are poisonous if ingested. • Water only when the soil is dry. Do no put or sprinkle water on leaves of this plant as it may cause damage. • As the plant grows, bottom leaves will sometimes dry up. This is normal and dried up leaves should be removed. • Avoid direct sunlight as it will scorch the leaves, but also avoid dark corners or areas as this might impede growth.