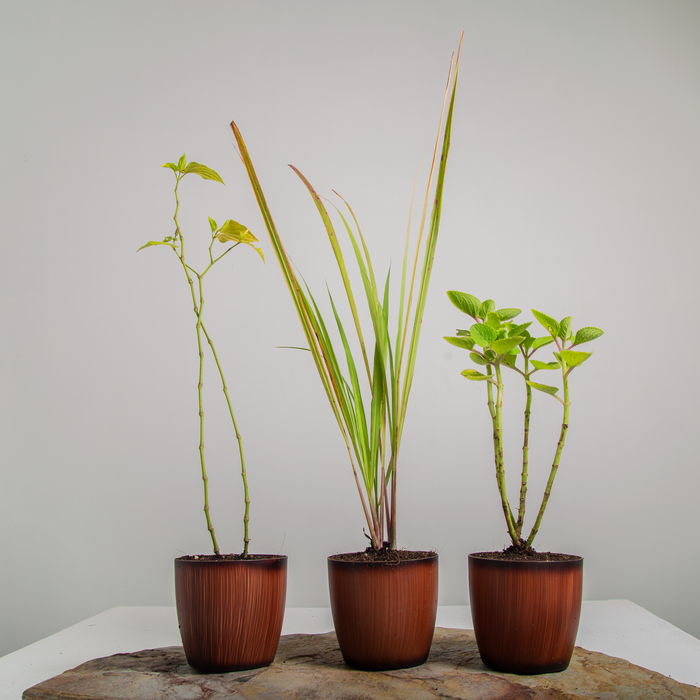 Immunity booster Combo plants | Ajwain, Pipali, Lemon grass
Sold out
Original price
Rs. 997.00
Immunity booster Combo
1. Patta ajwain   
We would be no stranger to Patta Ajwain or Indian Borage. This multi-utility plant used to be grown in many households and for a good reason. It is revered in Ayurveda as a "Thousand utility plant", as it cures cough and cold, is used in cooking and to make refreshing juices. It can also be used to make chutney or healthy dips. 
Go ahead and buy this when you want something that is connected to our traditional roots and want a handy plant that can be used for a quick remedy.

2. Pipali 
Several wonderful flavours have been lost in translation. But this medicinal herb, commonly known as 'Long pepper' would be a wonderful exotic spice to bring back to our cuisine, in cooking everything ranging from biryani to using it for it's Ayurvedic healing properties. Its flavour is more complex than black pepper, in a more nuanced refined way, with undertones of sweetness. It's an excellent bridge between chilli and pepper when it comes to the kitchen. Though it might not be easy to get hold of this, it is worth it. Go ahead and get yours.
Plant Care 
3. Lemongrass  
Lemon grass is an unique all purpose herb, and it's properties are vast, from being a medicinal plant to aromatic plant and even a pesticide. It has many names including Malabar grass, Cochin grass and Barbed wire grass. Lemongrass tea is proven to reduce anxiety, lower cholesterol levels, prevent several infections, boost oral health. It is also used as a handy painkiller.
Go ahead and buy this if you want to go over to the healthy tea team and avail the simplicity of the much loved lemongrass fragrance. Most of all, boost your immunity with this plant. 

Did you know that a 2015 study concluded that drinking lemongrass tea for 30 days boosted hemoglobin concentration and RBC count?