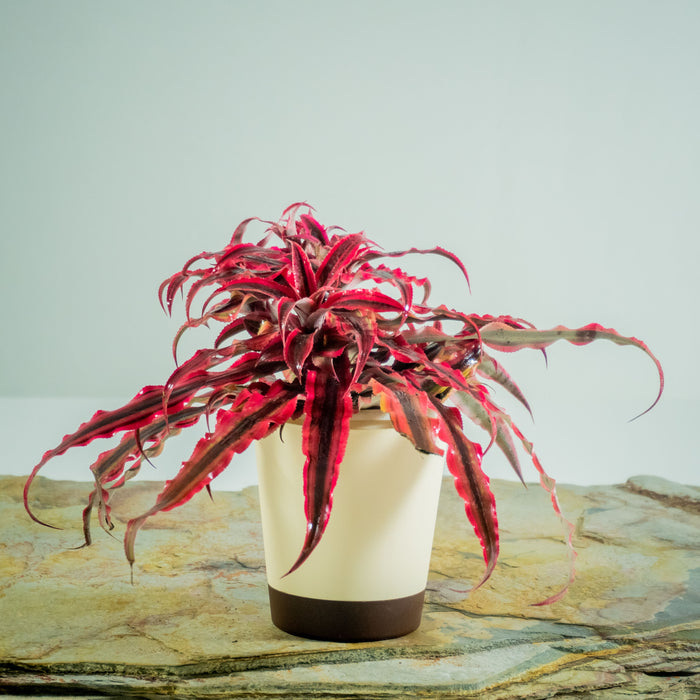 Ruby Starlite Starfish Plant | Cryptanthus bivittatus 'Ruby Star' (Neon)
Sold out
Original price
Rs. 499.00
Common Name: Starfish plant, Earth Star, Red star, Pink star
Botanical Name: Cryptanthus Bivittatus
Other names: Ruby Star
Origin: Brazil
What's special?
 This striking and lethal beauty looks too good to be true at the first glance. So do not confuse this plant with a dead showpiece - it's very much real and alive. This Brazilian plant has many names - Starfish plant, Earth Star, Red star, Pink star - all coming from its beautiful & vibrant foliage which truly speaks for itself. Earth Star does not require constant nurturing; watering it occasionally is its only expectation. This ornament plant can be used as a centerpiece on study or dining table and once it is grown reasonably, it can also be used as a ground cover. It is simply perfect for adding a beautiful color contrast & texture to any indoor space.
Growth Habits: Up to 6 inches (≈ 15 cms)
Soil Requirement: Sandy well drained soil
Watering Schedule: Once a week. Water only when the soil is dry.
Light condition: 4 – 5 hours of partial or indirect sunlight
Ideal Temperature: Anywhere between 2 - 32 degree Celsius
Repotting instructions: You will not encounter the requirement for repotting. But you can transfer the offsets into other pots for them to grow happily.
Suitable Locations: Slightly shaded spots like near windows of study room or living room, well-lit kitchen, etc.
Maintenance: Low
Caring Tips:
 • Keep this plant away from direct sunlight to avoid withering of leaves. • Water only when the soil is dry. Pot should have good drainage system. • There will not be any such requirement of repotting, but you can change the soil once in a year. Soil losses nutrients with the passage of time, that is why your plant needs new soil with nutrients. • Always make sure that the pot is deep enough for the roots. Their roots basically work as anchors to the plant.