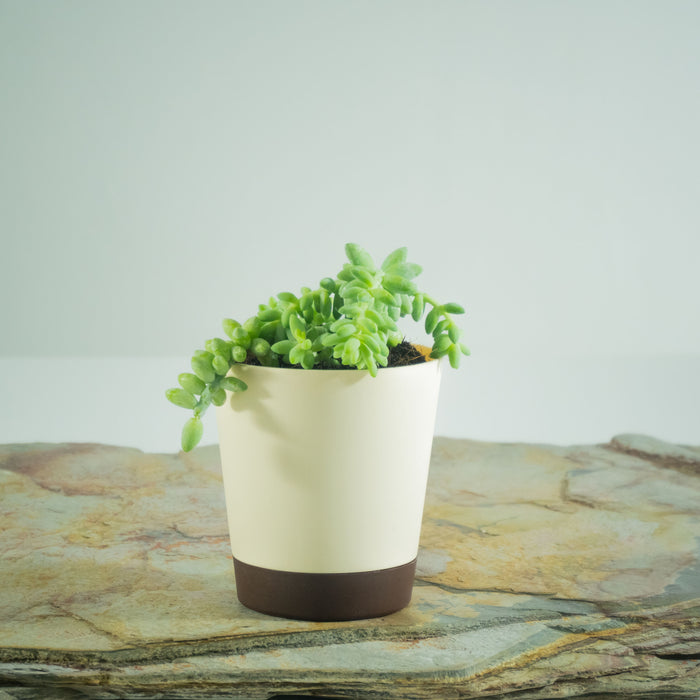 Sedum burrito 'Baby donkey tail' | Sedum morganianum
Sold out
Original price
Rs. 370.00
Common Name: Donkey's tail, Lamb's tail, Evergreen succulent, Horses' tail
Botanical Name: Sedum morganianum
Other names: Burro's tail
Origin: Mexico, Honduras
What's special? Let's cut to the chase! Burro's tail is undoubtedly one of the most delightful hanging succulents. There are three major features which make this plant stand-out from the rest. First, by all means, is its fascinating texture of those small light-green leaves. Second major feature is its quality to propagate at great ease. And third but not the least is its long hanging tail-like branches which gives the place a unique tropical appearance. This evergreen succulent having many cute names is simply a delight to watch.
Growth Habits: Up to 24 inches (≈ 60 cms)
Soil Requirement: Sandy, Cocopeat, well drained
Watering Schedule: Once a week as per the weather conditions. Plant will demand more water in hot conditions.
Light condition: 4 – 5 hours of bright light
Ideal Temperature: Anywhere between 16 - 32 degree Celsius
Repotting instructions: Avoid repotting this plant unless it is absolutely required. Add some fresh soil while repotting.
Suitable Locations: Balcony, sunny window, rock garden, hanging basket, etc.
Maintenance:Low
Caring Tips:• Always use pots with proper drainage hole. Excess water can damage the plant in a very short time. • Burro's tail is considered as a succulent with the most delicate roots. Avoid repotting this plant as far as possible. • You can keep this plant indoor or outdoor under some shade but keep it away from extreme heat. Morning sunlight is perfect for healthy growth.