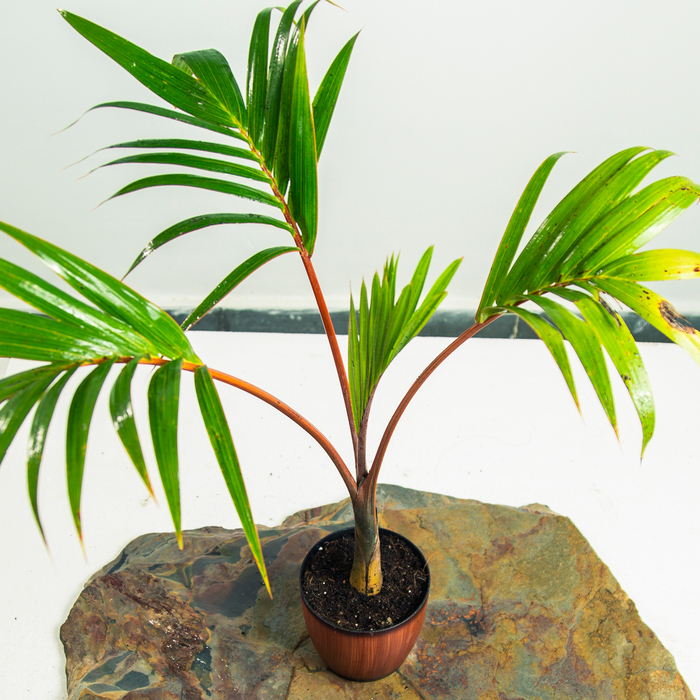 Common Name: Champion Palm
Botanical Name: Hypophorbe lagenicaulis
Other names: Bottle palm, CP 21
Origin: Mauritius
What's special?
Champion palm is the most extrovert of all palms. It enjoys sunny weather and has got roots strong enough to survive even the rough streets and driveways. A lover of great outdoors, this plant is also known as 'Bottle Palm' due to a myth that its swollen trunk was a water storage facility. 
With little care, you will see this palm growing rapidly. At any given point, Champion palm bears not more than four to six leaves, but all perfectly spread and supported by solid stems. 
Though these palms are used majorly for landscaping purpose in hotels, on property lines or driveways, they are excellent for your home garden as well. They will act as live air purifiers and shall also enrich any left-out space.
Growth Habits: Up to 20 feet high
Soil Requirement: Loam (mixture of clay and sand), should be well drained
Watering Schedule: Twice a week
Light condition: Loves full exposure to sunlight but they will take partial shade as well
Ideal Temperature: Around 30 - 35 degree Celsius
Repotting instructions: You will need to repot whenever the current space falls short as it is a fast-growing plant.
Suitable Locations: Boundary of property, gardens, hotels, etc.
Maintenance: Medium 
Caring Tips: 
Try to avoid planting it in a container or a small pot.
Plant it in a spacious environment, possibly outdoors.
Do not repot immediately if you have changed the environment. Let the plant adjust for good 3-4 days before repotting.