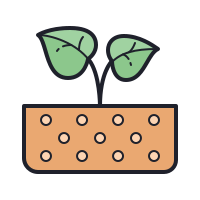 Looking to bring something which can give a perfect contrast to your hall or your bedroom with spectrum of colors like - pink, green, purple & deep red? Then Cordyline Coffee plant is just the right one for you.

All you need to do is take small efforts like regular watering, and this plant will reward you with clean air - day in, day out. Its foliage consisting of glossy green leaves at the bottom & pinkish red leaves at the top, comes out beautifully from the strong stem in the middle. And this makes it perfect for landscaping purpose.

You can count on this plant. Its evergreen shrub which makes beautiful colors as it grows, will never fail to mesmerize your guests.
Caring tip
• Place this plant in pots with good draining system otherwise the roots will start rotting.
• You will need to water this plant daily but make sure that you never overwater it.
• If the leaves are getting dry & dull, it is an indication that the plant needs some fertilizer with good nutritional value.
• Though this plant grows well in full sun, try to find a sheltered spot if you are planning to keep it outdoor during the summer months.