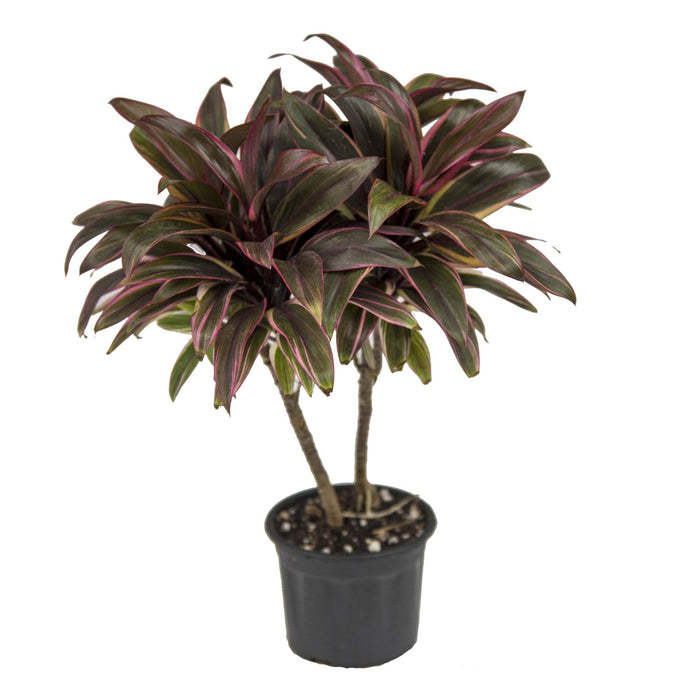 Cordyline fruticosa 'Chennai' (Compacta Red)
Common Name: Cordyline Red Sister, Cordyline "Red Star Spike", Red Ti Plant, Good-Luck Plant, Palm lily
Botanical Name: Cordyline australis 'Red Star'
Other names: Cordyline Red
Origin: Australia, Papua New Guinea, Tropical South East Asia
What's special?
 Cordyline Red is one of the most underrated plants in the gardeners' community. But its popularity is increasing these days to use them as ornamental plants for room decoration. To start with, it has got a cool, compact shape. The bronze-red color, palm-like leaves are simply a delight to watch if placed under proper lighting conditions. In addition to this, the yearlong beauty is low-maintenance and provides ivory-white flowers in summer having delightful fragrance. You can place this sub-tropical plant in between other green shrubs and its red leaves would make the place attractive & exotic to the eyes.
Growth Habits: Up to 3 – 4 meters high
Soil Requirement: Moist well drained soil
Watering Schedule: This plant needs daily watering
Light condition: 4 – 5 hours of bright indirect sunlight
Ideal Temperature: Anywhere between 16 - 32 degree Celsius
Repotting instructions: While repotting always choose a sturdy container for this plant as they are top-heavy.
Suitable Locations: Places where this plant can receive bright light like near windows, study room or living room, well-lit kitchen, balcony, garden area, etc.
Maintenance: Low
Caring Tips:
 • Place this plant in pots with good draining system otherwise the roots will start rotting. • You will need to water this plant daily but make sure that you do not overwater it. • If the leaves are getting dry & dull, it is an indication that the plant needs some fertilizer with good nutritional value. • Though this plant grows well in full sun, try to find a sheltered spot if you are planning to keep it outdoor during the summer months. • Keep this plant away from the reach of your pets as the leaves are highly toxic & can cause harm, if ingested, by animals.