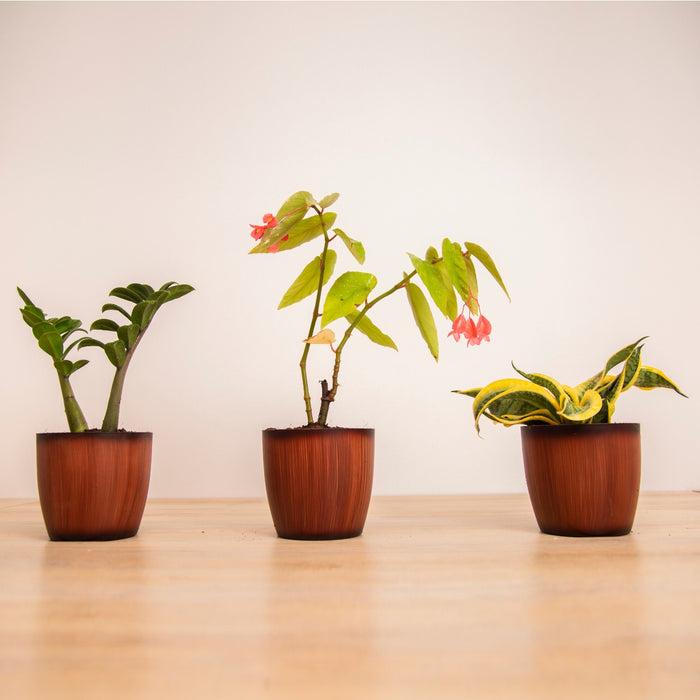 Gift of Love Combo / Angel Wing Begonia, / ZZ Plant, / Sansevieria Trifasciata 'Twister'
What's special?

Angel Wing Begonia-
The Angel wing begonia is a flowering species from a large family of plants named Begoniaceae.
The Begonia coccinea has a fair few varieties that display glossy type leaves on cane stems and display colorful flowers.
The Angel wing begonia blooms during summer. These flowers are a small waxy type that grow in groups from the stems, and kind of droop or hang. Flowers commonly bloom bright red to light pink in color.

ZZ Plant-
The ZZ plant is an easy to grow and care for indoor plant that displays small glossy leaves on stems which can grow up to 3 ft. long indoors.
The Zamioculcas Zamiifolia (botanical name) grows well in low or bright lighting conditions and with frequent or much less frequent amounts of water.
The plant tolerates low light, bright light and different levels of watering. However, watering depends on how much light it receives (i.e., less light = less water and more light = more water).
Sansevieria Trifasciata 'Twister'
It is a dwarfed variety of the Sansevieria type. This indoor plant has green and yellow variegated foliage. The plant gets its name from the way the leaves curl around to give a twisted effect. It grows to a height and width of about one to two feet altogether.

Did you know: Sansevieria was a treasured plant first cultivated in China. The Chinese believed that the eight gods granted various virtues to those who grew the snake plant.