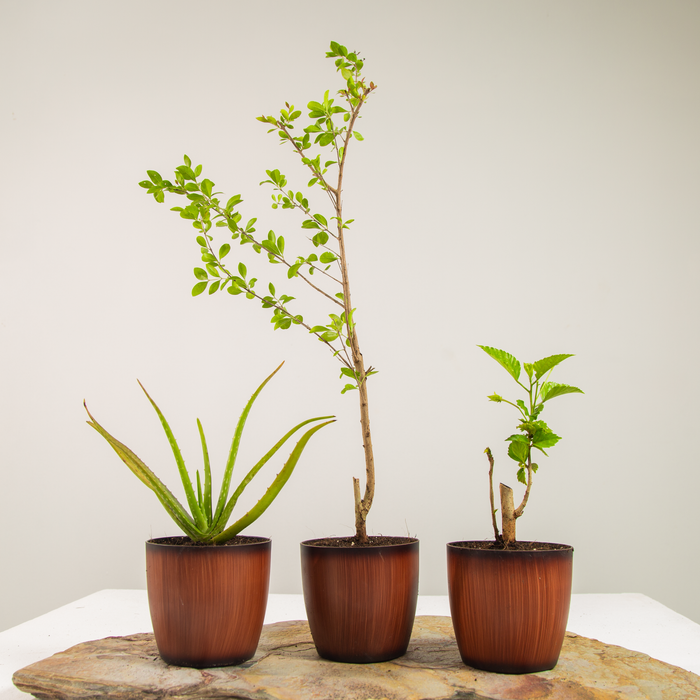 Haircare Combo plants | Hibiscus, Henna, Aloe vera
Sold out
Original price
Rs. 877.00


1. Hibiscus desi red 
There could be several other colours of Hibiscus, but what comes close to our very own native Hibiscus with it's very own distinctive shade of red - pink? It is a tropical beauty that will bring an exotic sense. And as a very important benefit, this particular variety is cultivated for its medical properties too. An herbal tea made with hibiscus petals is popular in South Asian traditions for it's rich health benefits as an antioxidant, antidepressant and to reduce blood pressure. 
It's also said that one small cup of this tea or extract every day would keep your heart healthy all life!

2. Henna sapling 
We would remember the henna plant for the rich, deep red mehendi or maruthani on our hands during festivals and the red henna hair dye commonly used. In addition to this, it has health benefits like cooling body temperature and serves as an excellent ornamental outdoor tree. Henna would thrive in your garden when you plant it on well drained soil and water it only once the soil dries out. It also loves the sunlight, so choose a nice sunny spot for it. 
It is quite a tall shrub, that grows upto 25 feet. Did you know it was brought to India by the mughal emperor Babur?          
3. Aloe vera 
We are no strangers to the universally hailed 'wonder plant', Aloe vera. Known for its endless health benefits, it used to be planted in every house under curry leaves trees as a tradition. Bringing it back, wouldn't it be handy to have this all-purpose plant in our apartments even in the busiest of the cities?
Aloe vera is known for its antioxidant properties, skin healing tendencies, body heat reduction… and this list is literally endless. Go ahead and buy this little treasure cove, which you can propagate into multiple pots later on. It is said that having a shot of aloe vera juice every day keeps us young and healthy all life and it has centuries of documented benefits and usage throughout history.