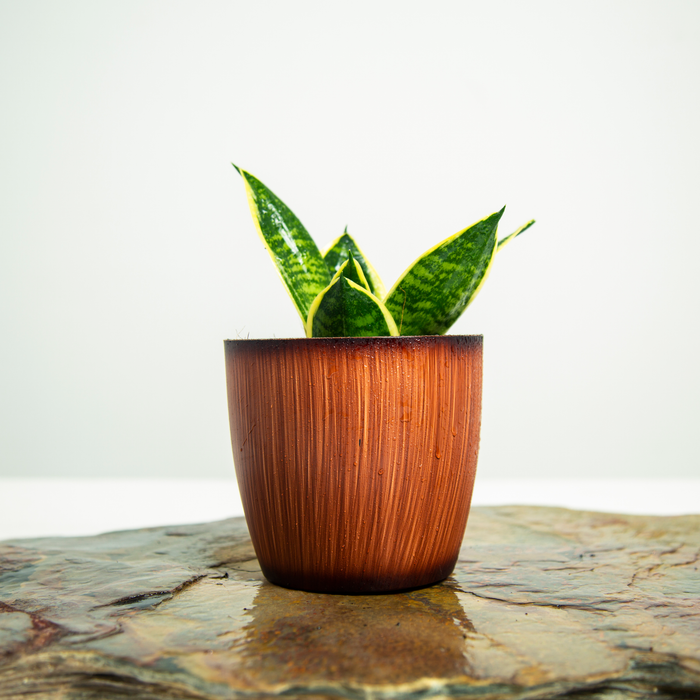 Sanseveria Hahnii Marginata Compacta
Common Name: Bird's Nest Sansevieria, Golden hahnii, Dwarf Mother in Law's Tongue, Dwarf Snake Plant
Family: Asparagaceae

Yet another mini version of the air purifier plants is Sansaveria Compacta. This can tolerate ignorance and would need you to water it just once in a month. It has leaves just like succulents that makes this survive even in deserts. So, if you want to head out on a vacation, you don't have to worry for a moment. It can take severe light conditions, even the lack of light. This family, even in the harshest of climatic conditions, it tested out successful in creating our own mini ideal environment. This family of plants was a part of a NASA study in improving indoor air quality as it removed several toxic chemicals like formaldehyde, benzene, toluene and xylene.
The Snake Plant Green Compacta is grown for its attractive foliage. Dark green leaves with light green stripes across, which are stiff and shaped like swords. This houseplant grows to only about 6 inches in height and width. Highly drought tolerant, the Snake Plant Green Compacta is forgiving and extremely adjusting to its conditions. It grows in low light conditions and doesn't mind being neglected.
Go ahead and buy this if you want a tabletop air purifier and a no - worry plant that is happy with you being busy.