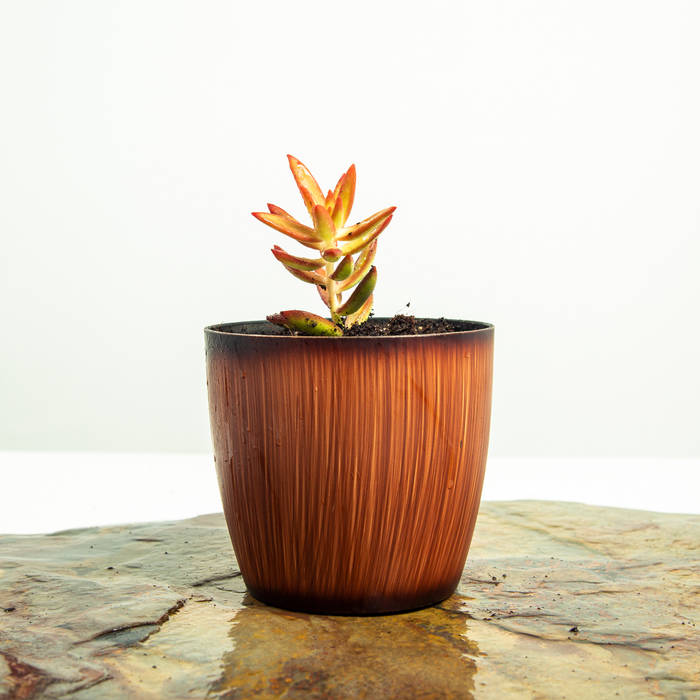 Sedum adolphi 'Firestorm'
Sold out
Original price
Rs. 340.00
Common Name: Golden Sedum, Pink Sedum, Pink Stonecrop, Golden Glow
Botanical Name: Sedum adolphii 'firestorm'
Other names: Firestorm Succulent
Origin: Mexico
What's special?Is it a plant? Or just an exotic flower? Or a red hot succulent? Many would say that it is a work of art! To put it in simple words, Firestorm is a fast-growing, sun-loving, succulent plant. The center starts with green colour, then some shades or yellow in between and vivid red at edges for finishing. The most strking thing about this succulent is that as it gets the exposure of sun, the red gets brighter. That is also the reason why this particular type is called the "Firestorm succulent". During springtime Firestorm produces round clusters of small flowers which offers the same striking contrast as their parent. This fast-growing and easy-to-care beauty can surely be a great addition to your succulent family.
Growth Habits: Up to 8 inches (≈ 20 cms)
Soil Requirement: Sandy, Cocopeat, well drained
Watering Schedule: Once a week as per the weather conditions. Plant will demand more water in hot conditions.
Light condition: Direct sunlight for 5 – 6 hours a day
Ideal Temperature: Anywhere between 16 - 32 degree Celsius
Repotting instructions: Whenever required you can easily repot the plant with fresh soil. Just make sure that the new pot has the same depth as your old container.
Suitable Locations: Rock gardens, Shaded Balcony, windowsills, vertical garden, hanging baskets, green roofing, etc.
Maintenance: Low
Caring Tips:• Always use pots with proper drainage hole. Excess water can damage the plant in a very short time. • Water thoroughly when the soil is dry. Do no put or sprinkle water on leaves of this plant as it may cause damage. • You can keep this plant indoor, but it will not grow quite as well due to its high requirement for sunlight.