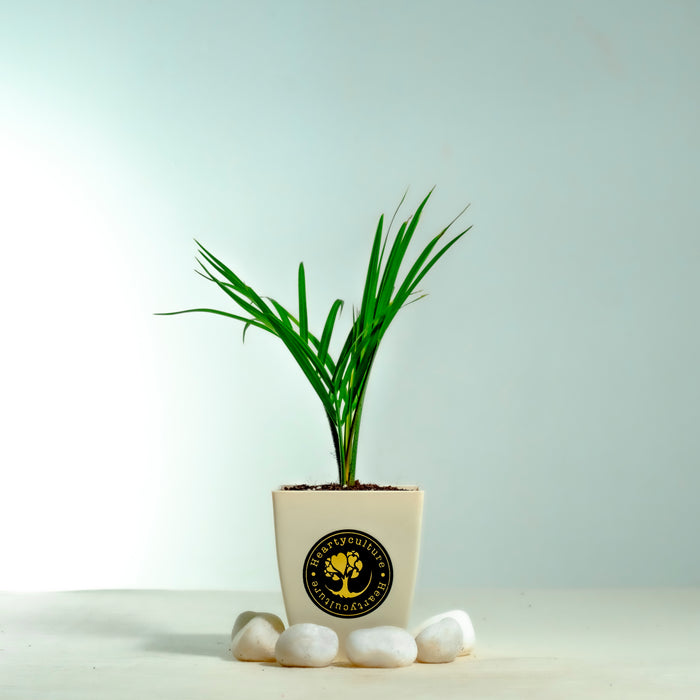 Triangle Palm | Dypsis decaryi
Common Name: Triangle Palm
Botanical Name: Dypsis Decaryi
Other names: Madagascar palm, Three-Sided palm
What's special?
This palm undoubtedly sums up the flora of Madagascar Island.
And then there a lot more to it. It requires hardly any nursing. It is resistant to drought, heat and windy conditions. You can plant it as a lone warrior, or you can plant them in groups for a gracious look.
Also, if you are looking to buy a low maintenance peacock-like ornament for your garden, your search ends here. Its beautifully arranged fronds in triangular form, lush green leaves supported by the robust brown trunk - gives your landscape a perfect tropical feel.
Growth Habits: Up to 25 -30 feet high
Soil requirement: Sandy soil
Watering schedule: Water regularly
Light condition: Full/partial sunlight
Ideal temperature: About 10 - 35 degree Celsius
Repotting instructions: Due to its slow growth the plant is not required to repot frequently. Only repot when the plant is pot bound.
Suitable Locations: Indoor or outdoor depending on the plant size and space requirement.
Maintenance: Low 
Caring Tips:
Plant in a well-drained area. Too much water or rainy weather could initiate root rot.
You may trim the old fronds as and when required. Not required to do it too often due to its slow growth pace.
Even though the plant is not vulnerable to occasional dryness, keep it watering at regular intervals. Just avoid overwatering.